Coffee Diamonds® is the most popular signature line of jewellery from Sitaram Jewels. They are quite a rare form of naturally occurring diamonds and speak to your heart through its earthy brown hue. Due to their distinctive looks and the mesmerising warm glow, Coffee Diamonds® are starting to enjoy a red carpet welcome in the fashion world.
Coffee Diamonds® occur due to the structural irregularities in the crystal lattice of regular white diamonds. As finding beauty in something unusual is our way of life, Coffee Diamonds® soon gained a revered place in the diamond hall of fame.
Coffee Diamonds® bloom into perfection under the artistic hands of our gem cutters. Polished to enrich their rich coffee color colour, Coffee Diamonds® are then lovingly crafted into one of a kind designs by our skilled artisans.
Transformed into spectacular pieces of art, our Coffee Diamonds® jewellery collection suits all skin tones, and brings in a contemporary twist to the classic definition of diamond jewellery. Coffee Diamonds® eternity rings and cocktail rings are classy, stylish and one of our best sellers.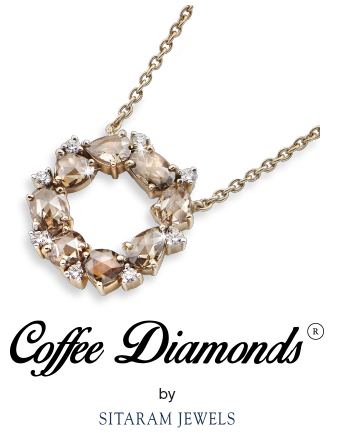 FAQs
What are Coffee Diamonds® ?
Coffee Diamonds® are naturally occurring diamonds with a distinctive brown colour. They are quite rare and unique, and occur in an array of hues and saturation. At Sitaram Jewels, we handpick Coffee Diamonds® with a vivid brown colour and aesthetically use them in our one of a kind designs.
What is so unique about Coffee Diamonds® ?
Coffee Diamonds® are much more than a mere gemstone…they show us that even seemingly obscure things can evolve into excellence when they are backed by passion, vision, and determination.
First discovered in the Argyle diamond mine in Australia, brown diamonds were considered inappropriate to be used in jewellery. Since fancy diamonds were not popular in that era, Coffee Diamonds® were selling at meagre rates. But, the Australian mining community could see hints of enchantment shining through the Coffee Diamonds® Backed by the skills and creativity of Indian gem cutters and artisans a new era of fancy coloured diamonds was born due to their collective commitment and vision.
As Coffee Diamonds® jewellery is quite exquisite and unique, they have evolved into a firm favourite among jewellery connoisseurs. The fact that they suit all skin tones is an added bonus.
How is Coffee Diamonds® different from regular brown-colored diamonds?
At Sitaram Jewels, we have handpicked the best of the best from scores of brown diamonds available in the market. We have named them Coffee Diamonds® to lend them the supreme reputation they deserve.
We either conceptualise a design and handpick Coffee Diamonds® to fit, or fall in love with a Coffee Diamonds® and conceptualise a beautiful design to showcase its glorious charm. Either way, your happiness and satisfaction are our core focus.
Are Coffee Diamonds® rare?
Yes, Coffee Diamonds® are much rarer than classic white diamonds. With the closure of the Australian Argyle mine, one of the biggest sources of fancy coloured diamonds, Coffee Diamonds® have become much more rare in recent years. But, we are always ready to source it for you.
Can I get Coffee Diamonds® from other jewellers?
Coffee Diamonds® is an exclusive trademark signature line collection of Sitaram Jewels with one of a kind designs and will not be available with other jewellers.