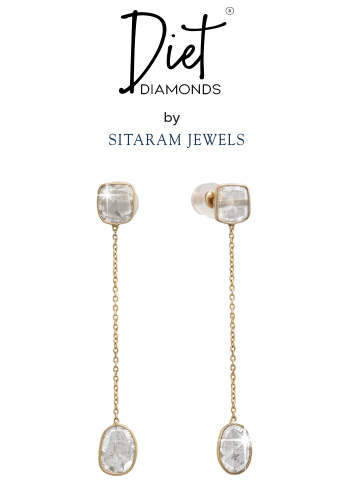 Diet Diamonds® is delightfully slim, wonderfully abstract and is the flat cut diamond that is inspired by the popular Japanese concept of 'Wabi Sabi,' which literally means finding beauty in imperfections. 
Can you believe that our iconic Diet Diamonds® was born out of a casual team conversation? At Sitaram Jewels, we have a wonderful team which bonds like a family. In one of our conversations about diets and staying in shape, someone quipped "how would a diamond on a diet look?"
We looked at each other with quizzical eyes and thoughtful smiles. That is the exact moment the idea for our Diet Diamonds® was conceptualised. Our Diet Diamonds® jewellery collection features wonderfully abstract flat diamonds that are cut with precision and polished to perfection. Diet Diamonds® exudes a unique glow due to the wonderful play of light against its flat cut surface. 
Our designers and master artisans craft excellence with flat cut diamonds. As Diet Diamonds® are beautifully abstract, no two pieces of jewellery from our collection look alike. Hard to replicate and strikingly pretty, our signature Diet Diamonds® jewellery collection is truly a jewellery connoisseur's dream. 
Diet Diamonds® jewellery are perfect for everyday style and spell the beauty of nature through their sublime grace and luminance.

FAQs
Are Diet Diamonds® natural diamonds?
Yes, Diet Diamonds® are natural diamonds that are cut into very thin slices and polished to make them exude a unique shimmer under light sources. Due to their one of a kind cut and polish, Diet Diamonds® looks spectacular on swinging chandelier style earrings and necklaces 
How are Diet Diamonds® jewellery different from regular jewellery?
There is something playful about Diet Diamonds® jewellery…maybe it is the way they exude an understated sheen, their lightweight comfort, or the absolute uniqueness of each and every Diet Diamonds ® (it is quite rare to find two  identical Diet Diamonds®.)
Diet Diamonds® jewellery is sophisticated, dainty, and spells timeless appeal.
Are Diet Diamonds® as rare as regular diamonds? 
Yes, Diet Diamonds® are just another avatar of regular diamonds, and quite rare. Infact, Diet Diamonds® are quite exceptional due to the unique cutting and polishing process it goes through.
Can I get Diet Diamonds® from other jewellers?
Diet Diamonds® is an exclusive trademark signature line  collection of Sitaram Jewels with one of a kind designs and will not be available with other jewellers.